The FFV 2014 Annual Banquet is approaching!
Our speaker this year will be Kelly Galloup.
Kelly Galloup started his fly fishing career at the age of 13, tying flies for the local tackle shop, and began guiding at the age of 16. He owned and operated the Troutsman fly shop and guide service in Northern Michigan for 20 years. He sold the Troutsman and moved to Montana where he now owns and operates The Slide Inn lodge on the banks of the Madison River. Kelly is the author of two books: Modern Streamers for Trophy Trout and Cripples and Spinners, and has numerous DVD's on tying and fishing. He has over fifty nationally recognized fly patterns that are sold worldwide, and is also a line and rod designer for Scientific Anglers and St Croix rods. Kelly has been published in nearly every major fly fishing periodical in the country and is one of the Editors a large for Fly Fisherman magazine. Kelly was also the host of Fly Fish TV on the OLN and VS's Network. Kelly is one of the most sought after speakers in the country and spends much of his winter months speaking for clubs and Sports shows. In 2003 Kelly received the living legend award from the FFF, and in 2007 the Charles E Brooks memorial life award.
There will be a free Saturday afternoon session that will center around fishing streamers and Kelly will also tie some of his famous articulated flies!
Please remember that this is a "Sit Down Dinner" and we MUST have your paid reservation no later than Wednesday, January 22. We have to give the Salisbury Club a hard count that day so they can buy the food. THERE WILL BE NO EXCEPTIONS so get your dinner reservations in the mail today.
New River Outdoors
James River Outdoor Company
Smallmouth & Muskie
Thursday March 20, 2014 Salisbury Country Club
Cocktails: 6:00PM Dinner: 7:00PM
Our March dinner speakers will be:
Britt Stoudenmire
http://www.icanoethenew.com/guidedfishingtrips_guides.htm
and
Andrew Fenstermaker
http://www.jamesriveroutdoorco.com/
The James River above Lynchburg and the New River near Blacksburg are relatively easy trips from Richmond and the rewards can be great. Citation Smallmouth and big Muskies await. Area natives,Britt Stoudenmire and Andrew Fenstermaker, have made it their mission to get to know these fish on a "first name" basis. They will be sharing their knowledge of these great fisheries at the March meeting. Flies, tackle, and techniques will be discussed.
Andrew is a lifelong sportsman who spends every possible minute in the outdoors pursuing his passion for hunting and fishing. He has continuously pushed his skill, knowledge, and love for this lifestyle since the age of 6. His first exposure to the inevitable addiction was thanks to a neighbor and very dear friend Billy Via, who introduced Andrew to the art of trout fishing. Growing up in Giles Co…
unty, Virginia there were plenty of fishing opportunities, and trout streams were just the beginning. While attending Virginia Tech University, Andrew was fortunate enough to work as a fishing guide for New River Outdoor Co. He spent 5 years learning from some of the best, including Britt Stoudenmire who is a great mentor and friend. Upon graduation Andrew decided to pursue his true passion for the outdoor world, and will be heading up the development of James River Outdoor Co.
" I thank God every day for the ability and opportunity to pursue something that I truly love as a career" – Andrew
March Special Afternoon Session
Shad & Stripers in Downtown Richmond
Join your fellow flyfishers for a seminar/open discussion led by Rob Thomas on
the fantastic spring fishery that occurs in our own backyard. We will discuss the
tackle, flies and techniques needed for a successful day on the water. A map will
be provided to mark the "hotspots". Learn all the rules and regulations as well
as identification of species. Historically the Shad show up mid-March and stay
until the first of May. Stripers sometimes stay into June. And there are big
Stripes in the River. 2011 there were 14 citations(20lbs or greater) issued and
2012 saw 8 citations. Last year a 75 pound fish was caught at Rocketts Landing.
**All seminar participants will be entered into a drawing for a dozen flies that
have proven deadly for this fishery.**
FFV members, we will have a full afternoon and evening of varied entertainment at our Thursday, May 15th dinner meeting!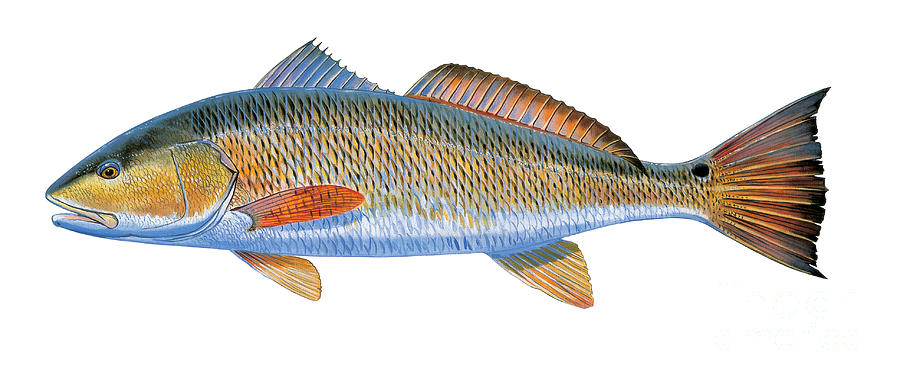 Our evening dinner speaker will be Captain Gary Dubiel.
Gary is the originator of the popping cork craze and inventor of the float-n-fly rig for Neuse River and Pamlico Sound giant red drum! You may have seen him on ESPN 2, WFN, UNC-TV, NBC Sports, the Sportsman Channel, Discovery Channel (Europe), a local or national fishing show, the Saltwater Sportsman's National Seminar Series, or perhaps in any major sports fishing magazine.
Our afternoon session at 5 PM will feature Captain Chris Newsome of Gloucester, Virginia. Chris is going to give a talk on 'live chumming'.
The festivities will kickoff at 3pm with a Casting Rodeo hosted by Green Top Sporting Goods. Representatives from Green Top will have a variety of Temple Fork rods available for you to try out casting. Also, Brad Whittaker, a Tempe Fork sales representative will be on hand to answer all your questions about Temple Fork rods.
Our July17th dinner speaker will be Bruce Ingram.
It has been ten years since Bruce has given us a talk, so we are looking forward to his visit!
Bruce will give both the afternoon and evening presentations.
Bruce Ingram has been a freelance writer/photographer since 1983 and has sold some 2,100 articles to magazines and some 2,400 photos.  Ingram regularly writes for such magazines as Virginia Wildlife, Wildlife in North Carolina, Whitetail Times, Turkey Country, Outdoor America, Quality Whitetails, Game and Fish Publications, and many others.  The Outdoor Writers Assocation of America has honored Ingram with six writing awards.
Bruce is also one of the few people who have floated the entire lengths of the freshwater James, the entire New, entire South Fork of the Shenandoah and Shenandoah and upper Rappahannock, the South Branch of the Potomac, and the Main Stem of the Potomac above Great Falls.
Purchase Bruce's books prior to the FFV meeting!
https://sites.google.com/site/bruceingramoutdoors/book-ordering
Bruce Ingram's books on the James, New, and Shenandoah/Rappahannock cover all float trips available on these rivers, plus information on access points, rapids, fishing hot spots, and trip planning. Basically, paragraph by paragraph, mile by mile, Ingram takes you on a trip down these rivers, so that when you go on your own excursions, you can have safe, pleasant experiences.  Designed for float fishermen, paddlers, birders, and wildlife watchers, these three where to go books are the most detailed works available.
Prices include taxes and shipping.  Please specify the individual the book should be dedicated and signed to.
James River Guide…$17.75
New River Guide…$18.75
Shenandoah/Rappahannock Rivers Guide…$20.75 (new edition)
Fly and Spin Fishing for River Smallmouths…$19.75
South Branch and Upper Potomac Rivers Guide…$20.75
Ingram's fourth book, Fly and Spin Fishing for River Smallmouths, covers how to catch smallmouths on fly and spinning rods throughout the year, plus such topics as conservation easements, riparian zone creation/protection, taking kids fishing, canoe camping, birding by canoe and much more.
The South Branch and Upper Potomac book covers from the Smoke Hole section of the South Branch downstream to the Upper Potomac just above Big Falls.  The format is similar to the other where to go river guides.
Send check or money order to Bruce Ingram at 1009 Brunswick Forge Road, Troutville, VA 24175.  Prices listed above include tax and shipping charges.
Our September 18th dinner speaker will feature FFV member Mike Buss. Mike will give a presentation on saltwater fly fishing opportunities in the coastal areas of Virginia.
Mike is very active in the 'Virginia Costal Fly Anglers' club and is its current president.
Mike will be accompanied by Larry Clemens.  Larry is co-author of a two volume set, "Flies of the Chesapeake".
There will be a fly tying session in the afternoon (4:30 PM until 6 PM).  Mike and Larry will also be able to take orders for anyone who may want a copy of the volumes.  They are $25 each.  They will tie a couple of the flies in the books during the fly tying session.
Our November 20th dinner meeting will feature FFV member Colby Trow of Mossy Creek Fly Fishing.
The November meeting is fast approaching. Our Dinner speaker will be FFV member Colby Trow. He will be speaking on fishing for Musky. We will also be having a raffle for a Musky Trip with Mossy Creek Fly Fishing.
We will also be having two afternoon speakers. First up, will be Matt Thomas from the Homestead. He will be talking about trout fishing the mountains of Virginia staring at 4:15pm.
Matt will be followed by Harry Robertson and Mike Kelley discussing the the great jungle fishing to be had at the Rio Indio Lodge in Nicaragua. FFV member Mac Myers will also be on hand sharing his experience there this past Spring
.
.
.
.
.
.
.